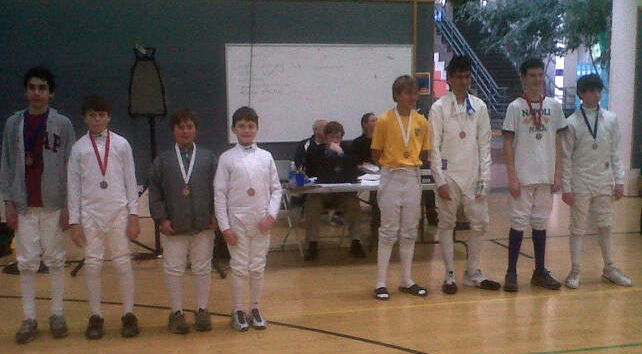 Congratulations to EBFG's youth men's Épée team for another strong showing at this weekend's Bay Cup events at UC Berkeley!
Atahan Kiliccote took gold in the Y12XE event after sweeping his pool and winning all of his DE bouts, remaining undefeated the entire event! Congratulations on your first tournament victory and keep up the hard work!   Giuseppe Baccari also finished 6th.
In the Y14ME event, Sam Rao took the bronze metal while Atahan Kiliccote placed 5th. Good job guys!
Finally in the Junior Men's Épée event, Matthias Philippine took the silver medal while his brother  Thibault Philippine took 3rd place. Sam Rao also finished 8th.
Thanks to all the East Bay boys for their hard work!