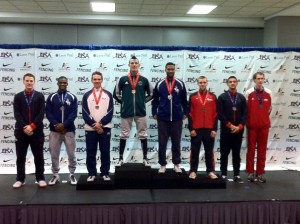 EBFG started off this year's NAC season strong with several top place finishes including a gold medal at this season's first NAC in St. Louis, MO.
A huge congratulations to Rob Rhea for his first place medal in DIV1 Men's Épée! Rob defeated Adam Rodney of the Peter Westbrook Foundation 15-13 to capture the gold medal. Rob's previous top place finish was silver against London Olympian Seth Kelsey.
Camille Esnault took home the bronze medal in the DIV2 Women's Épée event, another great finish after her podium finish at last season's summer nationals.  Camille's brother Kevin Esnault also made a strong run finishing 47th in DIV1 Men's Épée.
Matthias Philippine also had an outstanding competition and finished 5th in the Cadet Men's Épée event.
Congrats to all EBFG fencers who travelled to St. Louis last weekend and we look forward to more great results this season!